October 19, 2010
My purpose in printing this theological series is to help the members of the Christian Life Center understand the written truth about various doctrines being disseminated among some message believers.

The Bible and the Message of William Branham does not give me, or anyone else for that matter, the license to interpret the written word. Instead we are commanded to rightly divide the word of truth; that is to place it in its proper context and let the word interpret itself. (II Timothy 2:15)

Isaiah 28, verses 9-10 says: "Whom shall he teach knowledge? and whom shall he make to understand doctrine? them that are weaned from the milk, and drawn from the breasts.

For precept must be upon precept, precept upon precept; line upon line, line upon line; here a little, and there a little:"

Do we dare believe the written Word?

In the sermon Time Line Events #27, we learn that God is not three different persons and neither is He one like your finger. That is, we cannot confine the Being of God the Father to just one place at one time as the Oneness doctrine teaches. How can Jesus be his own father? He can't be.

If we understand the Godhead as it is laid out in the Bible, we will see who Jesus Christ really is and who Brother Branham really is. For example; if we try to make Brother Branham into a Third Adam, then we must not understand the Sonship of God. And if we do not understand the Sonship of God, then we really don't know who Jesus is and His complete role in Time Line Events.

There is no greater foundation than knowing that we must not add to or take away from the written Word. According to scripture, it is death to do so. The biggest lie ever told has 99.99% truth in it. If a teacher presents doctrines that are not written or found in the Word, by definition then he is a false teacher. However if the doctrine is found in the Word, then we must accept it as the Word of God and truth.

I trust that the reader will put their "spiritual thinking caps" on as they study these pages, and that this collection of sermons will be enlightening to them.

Your servant in Christ,
Rev. Ector A. Sidhu, Pastor
The Christian Life Center

Excerpts from the book: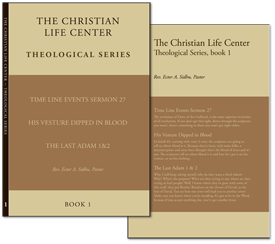 • Time Line Events Sermon 27
The revelation of Deity of the Godhead is the most supreme revelation of all revelations. If you don't get that right, down through the scriptures, you won't, there's something in there you won't get right either.

• His Vesture Dipped in Blood
In Isaiah 63, starting with verse 1; now, the scriptures are going to tell us whose blood it is. Because there's been, with some folks, a misconception and some have thought that's the blood of Jesus and it's not. The scriptures tell us whose blood it is and how he's got it on his vesture, or on his clothing.

• The Last Adam Sermon 1 &/ Sermon 2 Why, I still keep asking myself, why do they want a third Adam? Why? What's the purpose? What are they trying to say; where are they trying to lead people? Well, I know where they've gone with some of this stuff: they put Brother Branham on the throne of David, as the Son of David.You see how one error will lead you to another error? Make sure you know where you're standing. It's got to be in the Word, because if you accept anything else, you've got another Jesus.

• Books 2, 3 and 4 of the Theological Series are planned for release in 2013.